Jim and Jerry McEntire established Rollin Vapor in 2014. After both being 35 year smokers and finding help quitting with electronic cigarettes, decided to help others quit cigarettes and other tobacco products. Our vision has always been about helping others by providing quality products, lower prices and excellent customer service 2nd to none!
We are a family owned and operated business consisting of three other family partners - Robert, Brittany and Troy!
We started in a small 225sf shop in an industrial area and have since grown to an awesome 1250sf store and clean room facility for manufacturing our 7 amazing e-liquid lines. We manufacture 3 of our own lines and co-pack 4 other amazing lines for our e-liquid partners.
Our goal and vison is to be the #1 retail store for customer service and share our amazing e-liquids with the world!
Give us a try! We bet you won't be disappointed!


Our Services
Provider of E-Cigs and E-Liquid!
Accessories and Starter Kits.
D.I.Y Concentrates, Nicotine, Bottles, Syringes, Etc.

VG (Vegetable Glycerin) and PG (Propylene Glycol).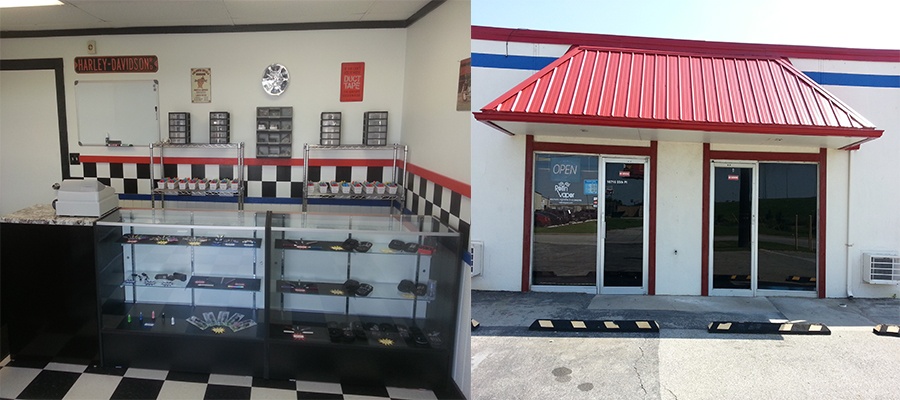 "These guys helped me when no other vape store had time or interest in filling my out of the ordinary needs. I smoke a 18mg juice on my Mini Nautilus and was out of my usual. I have specific taste and the guys at this store took the time to find out what I like when no one else bothered....and provided a great new juice that I really like, two actually! Because I got a free bottle of juice to boot ! Thanks guys you are lifesavers and I will be back!"
Beaker M.
"I am semi-new to vaping.. I started a while back, returned to cigarettes, now am trying the vape thing again in an attempt to give up smokes for good. I was referred here by some coworkers, and was not disappointed. The two gentlemen were both very helpful, and took the time to teach me about the products rather than just convince me to buy. Also, they make some killer juices that I am very fond of now. Definitely would recommend!"
Jake Elliot
"Went in to store today for first time today and the experience was WONDERFUL! The owner (not sure of name) was one of the nicest person I've ever met! Would recommend to all people!"


Theresa Dowdy